Nutricost Caffeine Pills, 250 Capsules, 250 Servings, 200mg Per Serving
35.99$
Nutricost Caffeine Pills, 250 Capsules, 250 Servings, 200mg Per Serving
Compare

Welcome to the official eSupplements eBay store!
Nutricost Caffeine 200mg Capsules – 250 Servings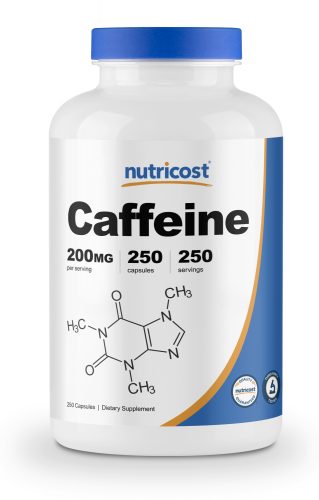 Nutricost's Caffeine
About the product
200mg of Caffeine Per Capsule
Get Caffeine Without the Added Sugar or Calories Found In Energy Drinks
1 Serving: 1 Capsule
Non-GMO, Gluten Free
Made in a GMP Compliant, FDA Registered Facility
Searching for a great alternative for coffee or questionable high stimulant energy drinks without the calories? Our caffeine pills are naturally zero calories and sugar free and can be taken as-is or the caps can be opened and added to any beverage.
Nutricost's Caffeine capsules are available in 120, 250, and 500 capsule bottles. Each capsule contains 200mg of caffeine.
Do not exceed 2 servings in a 24 hour period.
With Nutricost, it's quality above all else! That's the Nutricost difference!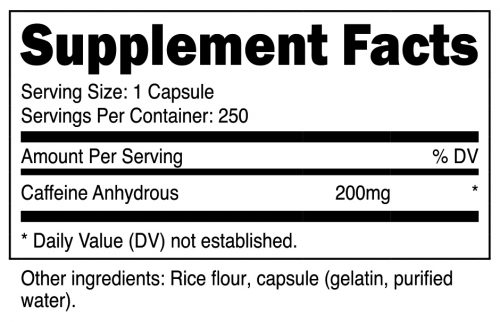 Nutricost strives to bring you the highest quality Caffeine Capsules
Q&A
Q. What are the benefits of taking Caffeine?
A. With Nutricost Caffeine Capsules you can get the energy, but avoid the unwanted calories that often come when you consume an energy drink.
Q. Why Should I Choose Nutricost Caffeine?
A. Nutricost Caffeine delivers an efficacious dose of caffeine with an incredible 250 capsules per bottle. Each bottle of Nutricost Caffeine offers up to 250 days of caffeine support at an extremely affordable bottle!
Q. Are there any side effects associated with Caffeine?
A. Take 1 capsule and see how your body handles it. When you are not used to caffeine, you can experience the "jitters." Do not exceed 2 capsules in 1 day. Caffeine may cause side effects in those who are caffeine sensitive, including jitters, anxiety, or restlessness. For those who are tolerant to caffeine consumption, Nutricost Caffeine will not cause any negative side effects.
Q. What is the recommended dose of Caffeine?
A. Take 1 capsule up to 2 times daily. Allow 3 to 4 hours between servings. Do not take before bedtime. Do not exceed 2 capsules daily
Q. How long does one bottle of Nutricost Caffeine last?
A. Within each bottle is 250 servings, each containing 200mg of Caffeine. If taken according to recommended dosage, each bottle will last between 4 to 8 months.
Q. Is there a return policy?
A. We offer a 30 day money back guarantee from the time of delivery of purchase. All unopened products in resalable condition will receive a full refund of the product sale price. Customer is responsible for shipping costs. One opened or empty product will receive a full refund less a 15% processing fee . Please contact our customer service department using your eBay message system for instructions on how to return your product.
Q. What are your shipping rates for the US?
A. Shipping & Handling Domestic: Fast 2-5 business days shipping is 100% FREE
Q. Do you offer international shipping?
A. Yes! We offer fast international shipping to most countries. Rates may vary by location and order quantity.
International customers (anyone outside the U.S. – including Canada & US protectorates) should be aware of and are responsible for all additional fees associated with duties, taxes, customs, and other costs incurred from shipping internationally. Your purchase includes courier fees only
***Please be aware it is against U.S. Law to underestimate the value of your package on the customs form.
***Please be aware we will not refund any international package that is refused. These additional costs vary depending on your location. Please refer to your local customs office to estimate these fees.
***Attention Alaska & Hawaii Customers Shipping may take up to 4-5 Business days
Helpful Links
Shop Categories
| | |
| --- | --- |
| Restocking Fee | No |
| All returns accepted | Returns Accepted |
| Item must be returned within | 30 Days |
| Refund will be given as | Money Back |
| Return shipping will be paid by | Buyer |
| Formulation | Capsules |
| Type | Caffeine |
| Expiration Date | Approximately 2 Years |
| Purpose | Energy / Weight Loss |
| Brand | Nutricost |