Description

Welcome to the official eSupplements eBay store!
Nutricost L-Glutamine 800mg – 180 Capsules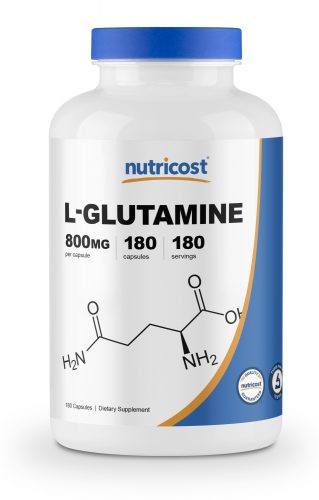 CONDITIONALLY ESSENTIAL AMINO ACID
L-Glutamine Dietary Supplement
800mg of L-Glutamine per Capsule
180 Servings of L-Glutamine Powder Per Bottle
Non-GMO, Gluten Free, Soy Free
Manufactured In a GMP Compliant, FDA Registered Facility
At various times the body may require more Glutamine than it can produce, particularly under conditions that involve or recently involved a lot of physical activity. Under these circumstances Glutamine may be considered a "conditionally essential" amino acid.
Every bottle of Nutricost L-Glutamine comes with an incredible 180 capsules at the best price on the market.
High Quality L-Glutamine!

Q. Why Should I Use Glutamine?
A. During intense training and/or times of stress, the body can lose up to 50% of its glutamine pool, causing catabolism, soreness, compromised immunity, poor muscle growth, and weak muscles. Supplementing with glutamine quickly and efficiently restocks essential glutamine stores.
Q. How Much Glutamine Should I Consume Per Day?
A. For most athletes or individuals, consuming 5 grams of glutamine per day is enough to restock glutamine stores after exercise and periods of stress. Many bodybuilders and serious athletes take up to 10-15 grams per day. Each capsule of Nutricost L-Glutamine has 800mg of glutamine, making it easy to consume your desired daily allotment at the frequency and intervals you want.
Q. How Should I Use L-Glutamine for Best Results?
A. For best results, consume L-Glutamine when your body has the greatest need for it to maximize absorption. This would be first thing in the morning, immediately post-workout, or 1 hour before your workout and/or going to bed. Consume daily with plenty of water. Combine with a balanced diet, exercise, and adequate rest.
Q. Why Should I Choose Nutricost L-Glutamine?
A. Nutricost L-Glutamine delivers ultra high quality L-glutamine in a highly absorbable form. All Nutricost products have been formulated to the highest quality standards that produce real results. Plus, Nutricost L-Glutamine comes packed with 180 capsules in each bottle!
Q. What are your shipping rates for the US?
A. We offer Free Domestic shipping.
Q. Do you offer international shipping?
A. Shipping & Handling International: We have fast international shipping available to most countries. Rates may vary by location and order size.
International customers (anyone outside the U.S. – including Canada & US protectorates) should be aware of and are responsible for all additional fees associated with duties, taxes, customs, and other costs incurred from shipping internationally. Your purchase includes courier fees only
***Please be aware it is against U.S. Law to underestimate the value of your package on the customs form.
***Please be aware we will not refund any international package that is refused. These additional costs vary depending on your location. Please refer to your local customs office to estimate these fees.
***Attention Alaska & Hawaii Customers Shipping may take up to 4-5 Business days
Helpful Links
Shop Categories